BYU students create the world's smallest Book of Mormon
Sep 30, 2022, 3:53 PM
|
Updated:
3:59 pm
(Nate Edwards, BYU photo)
PROVO, Utah — There are almost 291,652 words in the Book of Mormon and nearly 1.5 million characters, but a few students and a professor at Brigham Young University successfully engraved the entire book onto one silicon wafer in a 4.6 centimeter square.
This is likely the smallest Book of Mormon in existence, and it can still be read — with a microscope.
Carson Zeller said overlap between engineering and religion doesn't come frequently, but it was a valuable experience for him to learn about commercial engineering through a project that involved his belief system.
"That combination of academics and religion is something that's unique here at BYU," Zeller said.
Each of the letters in the Book of Mormon are about 25-by-35 micrometers, one millionth of a meter, more than a little smaller than the letters on the 531 pages of the historic religious text that sometimes seem too small to read.
It was made with techniques used to create computer chips.
"I'm sure Moroni would have liked to have been able to engrave as efficiently as we did," Zeller said.
The actual process to get the pattern on the silicon and do the etching, he said, probably took less than an hour.
Zeller said his family and friends have shown interest in the project, which he calls unique and fun.
"When you look at it with just your eye, all you see is a square on the middle of the wafer that looks a little bit different. So, to imagine that that is made up of thousands of words, or hundreds of thousands of words, and that it's something that they've read many times themselves. It's kind of unbelievable," he said.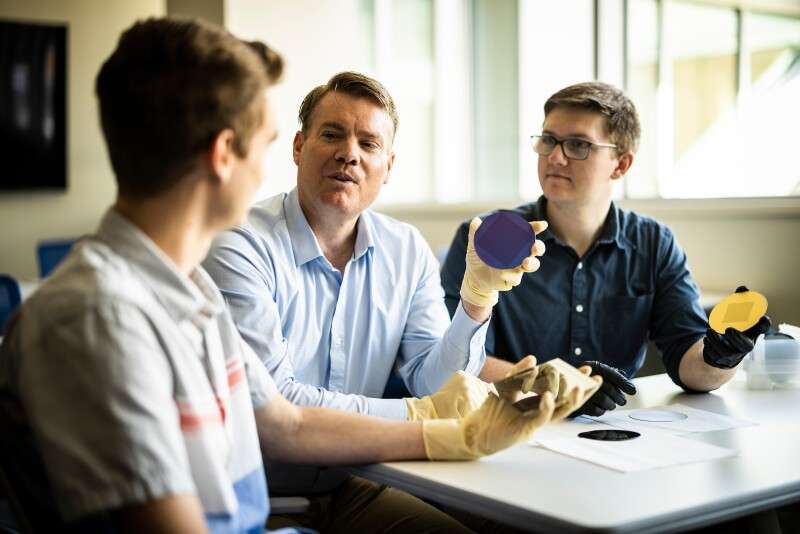 Aaron Hawkins, an electrical and computer engineering professor at BYU, said the idea came from a student in a research meeting talking about a nano version of the Bible.
"Who else is going to do this with the Book of Mormon than us?" he asked.
The largest hurdle for the project, Hawkins said, was figuring out how to use layout tools designed for circuits to print text — they were able to find an interface that allowed them to do it and, from there, the process mimicked what they do in the lab every day.
There is room to shrink the words even more, but not with the tools BYU currently has. It is possible for letters to be etched small enough to put the entire Book of Mormon into one of the letters, making the book 1,000 times smaller, Hawkins said. There have been Bibles printed small enough to fit on the tip of a pin.
But this larger, mini book has its advantages.
"This is actually great size. If you wanted to make a truly permanent record that could be read at a reasonable cost … a pretty simple microscope can see letters this size," Hawkins said.
This copy of the Book of Mormon could be read a million years from now with a simple microscope.
The silicon wafer has gold plating applied over it, so the engraved small Book of Mormon is gold, a nod to the gold plates that members of The Church of Jesus Christ of Latter-day Saints believe the Book of Mormon was translated from. Although gold is used in computer chips for specific purposes, in this case, it is purely aesthetic.
The smallest Book of Mormon is currently displayed outside the lab where it was made, at the Clyde Building at BYU's Provo campus.
Hawkins said this project has a religious purpose, but it is also a project that fits with typical demonstrations in the industry.
They also made similar wafers with the text of the Old Testament and the New Testament.